Programs
The Rhode Island Museum of Science and Art, (RIMOSA) became a 501(c)(3) organization in 2010. RIMOSA's hands-on exhibits and programs emphasize the tools that both artists and scientists share; curiosity, observation, experimentation and communication. Our programs are designed to help participants see the world not as it is, but as it could be.
Each of our programs:
lasts about 60 minutes, but can be adjusted to run longer or, somewhat shorter.
can be offered as a one-time program or linked with others to create a cohesive experience which can run any number of weeks.
Costs $170 for the first hour-long program, and $160 for each additional program in a series
For more information, or to book a program, please contact Juliette@rimosa.org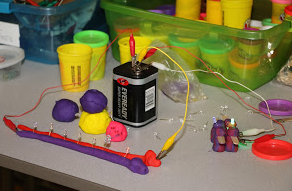 Explore the properties of electricity and creativity using conductive dough. Through hands-on art/science activities, you will learn how circuits work and the difference between conductive and resistive materials.  Use LED lights, play-dough and imagination to create...
read more