Thank You to our Generous Supporters

The Champlin Foundation — For generously funding the lift to make our lower floor wheelchair accessible.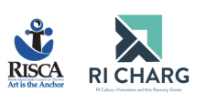 RI Culture, Humanities and Arts Recovery Grants (RI CHARG) — Funding for RIMOSA in 2021 was provided in part by a grant from the RI State Council on the Arts, through the RI Culture, Humanities, and Arts Recovery Grant program. It was made possible thanks to the National Endowment for the Arts, via funds from the federal American Rescue Plan Act.
RIMOSA event sponsors
Julie Miller
Stephanie Norin & Family
Alexis Pelletier & Family
Jennifer Pietros & Family
Donors to our Twice as Nice silent auction (2019 through 2021)